Hello Friends-
As we approach the finish line in the cold rain and pitch-black night of the Bay of Biscay off the coast of France, moving rapidly toward the conclusion of the Globe40 around-the-world race, which began for us in May of last year, I am reflecting on the past ten months. 'Trying' is a word that comes to mind, 'Tumultuous' is another… as is 'Turbulence'… but maybe I just like words that start with a "T"?
I love our little GS2 space module/biosphere, where we make fresh water from salt water, produce electricity from moving through the sea and from the sun, and move across the water only through the power of the wind in our sails. I will miss it for sure, as it is a natural high and feels right just being at sea in this fine craft.
We are loping along at 7k boat speed without our foot on the accelerator for the first time in forever, as we are going to be in 3rd place for this leg no matter what, so we are timing our arrival for daylight and I thought this last night at sea might be a good time to digest and try to make sense of these last 10 months, as Roger did yesterday.
It has been a very long journey through 8 stopover ports, with each one presenting its unique attributes: Lorient France, Tangier Morocco, Mindelo Cape Verde Islands, Port Louis Mauritius, Auckland NZ, Papeete Tahiti, Ushuia Argentina, Recife Brazil, Grenada Caribbean, and now back to Lorient France. What a ride. We left Portland Maine in May 2022 and will finish in France in March 2023, so 11 months at sea and probably 40,000 nautical miles.
I sailed solo around the world in 2015/16 and it was a very different experience. It was a record attempt instead of a race, so I was trying to sail at top speed, but sailing against the clock with no competitors next to me on the race course, I wasn't pushing as hard as we have pushed in this race. I have to say I enjoyed it more. There was less pressure and I could sail the boat the way I wanted to and thought was right, without feeling the need to constantly be in a bigger sail and be pushing the limits.
Maybe that makes me more of a voyageur or even an explorer than a racer at this stage of my sailing career, but if so, I'm OK with that. And I'm OK with 4th place instead of 1st place, because my primary goal in entering the race was to get around the world quickly, but safely, a second time and live to tell the story. Particularly about Cape Horn.
I guess it's all about risk management, to coin a corporate term. Constant risk/reward calculations- if I put up the bigger sail, will I be OK or will I wipe out and perhaps trash that sail and some part of the boat? Will the increased speed warrant the additional risk? In my mind the sail combinations are always driven by whether the autopilot can steer the boat- that is the arbiter, because we are not hand-steering. If the pilot can't handle it, we have to reduce sail. But others seem to push the limits further.
We also have to remember that we are thousands of miles offshore and rescue is highly questionable, so you really have to take care of yourself. All these factors combine for me to take a more measured approach and always think about living.. to fight another day. I think I may have lost that uber-aggressive attitude a 20-something skipper would bring to offshore racing, but did you ever hear the joke about the old bull and the young bull? I view it as a natural evolution. My co-skipper Roger (38) often wants to push the boat a bit harder than me, but when I ask him if he will pay for a new sail if we blow one up, he inevitably declines! I ask him, "Why do I always have to be the adult in the room?", but we just laugh... they're our roles.
Anyway, as we come down the home stretch, it is a bit of a melancholy feeling to know that this adventure will soon be over. I am glad I did it for sure, but I am also glad to move on to the next challenges. Although I do expect there will be a natural letdown and I may find myself at times staring off into the distance the way we do out here all day. I plan to write a book about my life and sailing adventures, so I expect to turn my energies mainly to that, as well as watching my son Emmett (Go Bulls) and daughter Sophie (Go Govs) ball out playing high school lacrosse this spring.
But today- we celebrate. I have that cheesy Lionel Richie song "All Night Long" stuck in my head, "Ooo- oooh yeah, we're gonna have a party... all night long… Oh yeah… all night long… Oh yeah… ". Sing it with me… :)
Cheers,
Joe + Roger on GS2
15 miles from the finish of the Globe40 in Lorient, France on March 17, 2023
[ This update was sent from Joe & Roger this morning. They have since finished the race. (photos below!)]
View GS2 Arrival & Interview Video Here >
GS2 Arrival!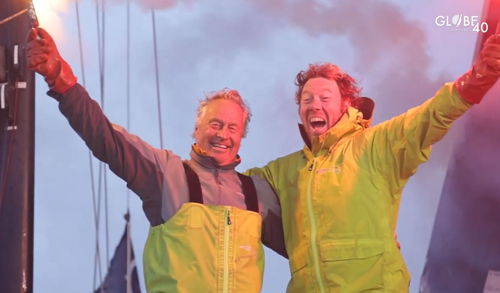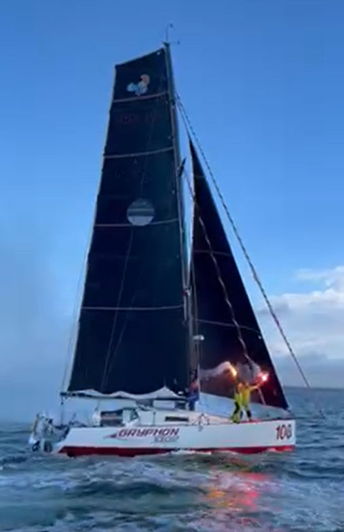 Hanna, Elly, Roberta, Michel on the spectator boat upon arrival: