Hello Friends-
Happy Thanksgiving to all from Tahiti!
We arrived on Nov. 11th after rounding Bora Bora and having a painful, very-light-air leg of 140 miles straight upwind to the finish. Ironically, just before the finish line in Papeete, a big squall hit with 30k of wind and torrential rain and we were virtually blinded as we sailed across a virtual finish line quite near the shore. We were able to get the sails down and turn the engine on to motor into the harbor where we were greeted with beautiful flower Lei's and then treated to a traditional French Polynesian dance. A very nice greeting after being at sea about two weeks from Auckland.
Since our arrival, we have been through our now-familiar stopover routine of taking everything off the boat- giving it a good cleaning- and putting everything back in hopefully better order. We sent a number of sails with the local sailmaker for repair and also had the TEEM electronics guy fix our hydro-generator and mast light, but otherwise, the boat is in pretty good shape after a lot of work in Auckland.
So with a bit of extra time available, I headed across the bay by ferry to the island of Moorea, where we had rented a cottage on the water. I was joined by an old friend, John Burkholder, whom I first met while working together on the Yellowstone Club project in Montana back in 2008. John is a Land Planner by profession and has been to the four corners of the earth working on exotic resort projects with his firm Hart-Howerton, but even he was blown away by the majestic beauty of the volcanic mountains of Moorea, often shrouded at the top by swirling clouds. So we did a lot of hiking, snorkeling, kayaking, and wandering about eating and drinking for about six days and I felt like I was finally truly relaxing by the time we had to head back to Tahiti yesterday!
Papeete, Tahiti now feels like a big city by comparison, but it is really a friendly place with a great marina and waterfront area. Leg 5 from Tahiti to Cape Horn starts tomorrow, Nov. 26, and we are doing the usual running around, for water, diesel, and groceries. We are checking the weather and routing and trying to come up with a good game plan for the Leg. Cape Horn is the big one and I have very clear memories of rounding it in 2015 as part of my solo circumnavigation. It blew 50+k out of the WNW and seas were 50-60 feet as well so it was a crazy, scary ride. I was forced to make a wide rounding so I never saw the big rock of Cape Horn, as I was well offshore. Maybe this time…??
Cheers,
Joe

Joe & John Burkholder: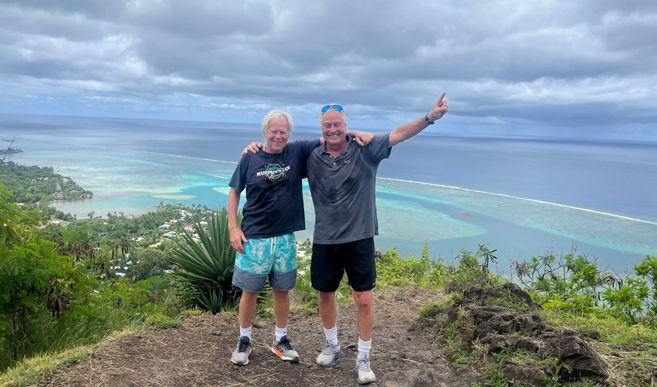 Moorea: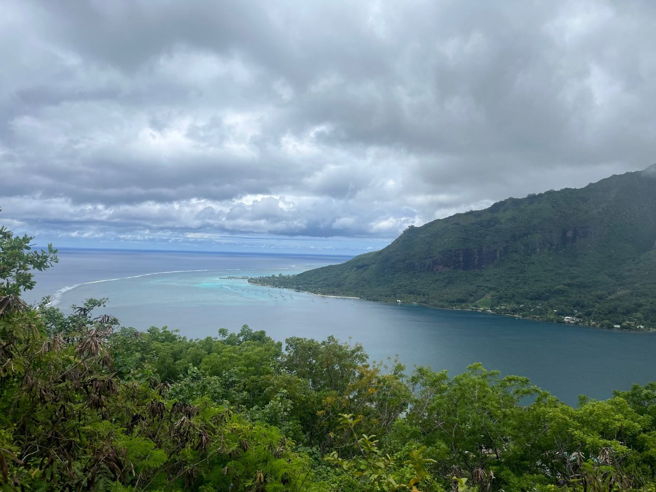 Looking back at Tahiti from Moorea: